About product
Ingredients/Composition
Characteristics
How to use:
Volume: 30 ml.
Series Expert is an alternative skin revival program. Innovative products solve problems without plastic surgery and in-salon treatment!
Formulas of products and techniques for home use are designed using methods of aesthetic medicine and plastic surgery. The principle of treatment from Series Expert is to solve problems quickly, efficiently, safely and reliably, without complications, side effects or resorting to radical methods.
With aging we are faced with skin problems such as appearance of wrinkles, skin loses of elasticity, sagging of cheeks, development of double chin, changes of face shape.
This is because over time body starts to produce less collagen and elastin - elements that are necessary to keep skin's elasticity. Visually the loss of a youthful oval face adds more age to a face than wrinkles does.
"Face Lift" Face &amp, Neck Cream&nbsp,is designed not only to fight the effects of skin aging, but also to diminish the reasons for them to occur, as it affects key molecular mechanisms.
Properties
Tightens, models and enhances facial contours.

Prevents skin sagging on cheeks and chin and stops deformation of facial contours.

Restores skin's elasticity, firmness and tone.
Clinical studies
20 women aged 61 ± 7 years participated in the testing of the product performed by laboratory Silab (France). Volunteers used the product twice a day for 56 days. The research results are as follows:
All volunteers noticed skin's firming and smoothing after using the product that contains Papylactil D ®.

71% of participants noted that contours of the face have tightened significantly.

90% noticed significant improvement of skin tone.
Macro improvement of skin after the application of this course: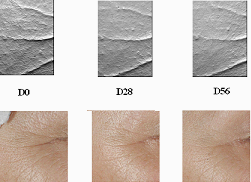 Shelf life: 18 months from date of manufacture.
Shelf life after opening: 8 months.
Made for Faberlic JSC, 4 Nikolopolskaya str., Moscow, Russia
Country of Origin: Russian Federation
Активные ингредиенты

Papilactyl D® – запатентованный комплекс из олигосахаридов земляного миндаля, поддерживает архитектуру сосочкового слоя дермы и восстанавливает синтез коллагенов, отвечающих за эластичность кожи; предотвращает деформацию кожи и появление глубоких морщин; восстанавливает уровень высокоэластичных окситалановых волокон, от которых значительно зависит упругость кожи.

Basaline® – омолаживающий комплекс из экстракта ячменного солода, увеличивает синтез адгезивного белка ламинина, содержание которого в коже с возрастом уменьшается почти в 2 раза. Ламинин, «склеивая» между собой волокна коллагена и базальную мембрану эпидермиса, уменьшает провисание кожи и улучшает ее тонус.
Стабильная форма витамина С укрепляет стенки капилляров, поддерживает синтез коллагена.

Гидролизат клейковины пшеницы подтягивает контуры лица, разглаживая морщины.

Гиалуроновая кислота – натуральный компонент матрикса кожи и самый эффективный увлажнитель, сохраняет тонус и эластичности кожи.

Novaftem-O2™ – кислородный комплекс, увеличивает содержание кислорода в клетках кожи и усиливает действие всех активных ингредиентов..

Состав: aqua, prunus amygdalus dulcis (sweet almond oil), cyclopentasiloxane, triethylhexanoin, caprylic/capric triglyceride, glycerin, arachidyl alcohol, glyceryl stearate, saccharide isomerate, dimethicone/vinyl dimethicone crosspolymer, behenyl alcohol, PEG-100 stearate, hydrolyzed wheat gluten, arachidyl glucoside, perfluorodecalin, hydrolyzed malt extract, ceratonia siliqua gum, tocopheryl acetate, sodium hyaluronate, butylene glycol, C12-C14 pareth-12, lecithin, poloxamer 188, sodium dextran sulfate, ascorbyl tetraisopalmitate, cyperus esculentus tuber extract, perfluoropolymethylisopropyl ether, arginine, fragrance, carbomer, diazolidinyl urea, methylparaben, propylparaben, disodium EDTA.
Program "Strengthening of face oval": effective for the skin that loses its elasticity due to aging processes or under the influence of environmental factors.
&nbsp,
A few drops of active serum with collagen apply on a clean face, neck and chest.

Then apply Face and Neck Cream "Ideal plastic" (1078) to the same area.

Duration of the program: every evening for 60 days.
Results
Well-defined cheekbones.

Leather trim neck.

Precise shape of the face.

Raised lip corners.

Smooth skin tone.

Deep wrinkles are eliminated.



Program "Effective correction of wrinkles"

Apply the concentrate for the face, "Stop wrinkles" (1060) or serum "Correction of deep wrinkles" (1063).

After 10-15 minutes apply Face and Neck Cream "Ideal plastic" (1078).

As a result, the elasticity and firmness of the skin increases, facial contours "lifts" and skin gets smoother.

Duration of the program: at least 60 days.