About product
Ingredients/Composition
Characteristics
How to use:
Expert - this is an alternative program of revival of the skin. Innovative products will solve the problem without the help of plastic surgery and without salon procedures.
Formula drugs and techniques for home use are based on the methods of aesthetic medicine and plastic surgery. Operational principle of a series of Expert - to solve the problem quickly, efficiently, safely and reliably, without complications, without side effects, without resorting to radical methods.
Around the eyes is where the first signs of aging and tired skin appear: wrinkles, puffiness, dark circles under the eyes, redness of the eyelid skin. These problems will be solved by the three-roll gel by reducing swelling and dark circles under the eyes.


Properties
Massage head with three rollers gently massage the delicate eyelid skin, stimulating microcirculation and lymphatic drainage.
Instantly cools, tones and revitalizes the skin around the eyes.
With regular use, eliminates swelling eyelids, reduces dark circles under the eyes.
Relieves tired eyes when working at the computer.
Softens, moisturizes and strengthens the skin of the eyelid.
&nbsp,Clinical studies
The results of the use of funds after 8 weeks of use:
the intensity of dark circles under the eyes is reduced by 35%,
puffiness under the eyes is reduced by 31%,
thin skin around the eyes is strengthened by 42% *
* Image courtesy laboratories Pentapharm (Switzerland) and Nikko Chemicals (Japan).
Shelf life: 18 months from date of manufacture printed on the package.
Shelf life after opening: 8 months.
Declaration of conformity: TC RU D-RU.AI82.V.00298
Regu®-Age – клинически апробированный комплекс из растительных экстрактов с пептидами сои, риса и протеинами дрожжей. Комплекс улучшает микроциркуляцию, значительно уменьшает темные круги и отеки под глазами, восстанавливает синтез коллагена и эластина, препятствует образованию морщин; содержит уникальный антиоксидант СОД – основной фермент борьбы со свободными радикалами и защиты кожи от окислительных процессов.

Комплекс экстрактов конского каштана, центеллы азиатской и вытяжки корня лакричника успокаивает раздраженную поверхность кожи, снижает отечность, омолаживает и тонизирует кожу, повышает ее упругость и эластичность, предотвращает появление пигментных пятен, препятствует образованию морщин.
Novaftem-O2™ – кислородный комплекс, увеличивает содержание кислорода в коже и усиливает действие всех активных ингредиентов; стимулирует периферическое кровообращение.
Состав: aqua, butylene glycol, saccharide isomerate, sodium hyaluronate, glycine soja (soybean) protein, caffeine, hydrolyzed rice bran protein, centella asiatica extract, aesculus hippocastanum (horse chesnut) extract, oxido reductases, dipotassium glycyrrizinate, panthenol, glycerin, perfluorodecalin, arginine, sodium dextran sulfate, peg-40 hydrogenated castor oil, perfluoropolymethylisopropyl ether, xanthan gum, carbomer, poloxamer 188, phenoxyethanol, methylparaben, butylparaben, propylparaben, fragrance, disodium edta.
Volume: 10 ml.
Country of Origin: Russian Federation
- Expert
Made for Faberlic JSC, 4 Nikolopolskaya str., Moscow, Russia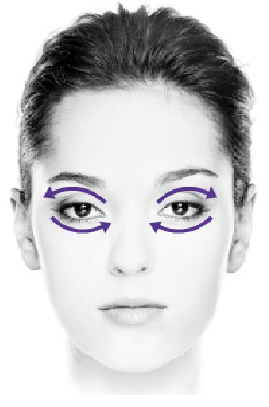 Apply gel in a circular motion around the eyes, massage rollers for a minute, massaging gently.
Three-roll gel can be used several times during the day, when your eyes feel tired after a hard day or sleepless night.